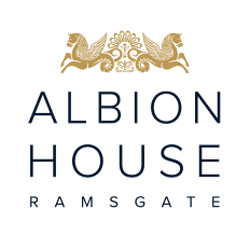 Chef de Partie
We are currently seeking to hire a Chef de Partie to be part of a professional kitchen in our boutique hotel and restaurant. We are the Dining Rooms at Albion House, Ramsgate, and have a growing reputation for our food primarily due to the arrival of Head Chef Russell Oxtoby.
Russell has worked under some fabulous Chefs over the years – most notably, QC under Jun Tanaka and Berner's Tavern under Jason Atherton. After spending some time private catering for high-end events, Russell and his young family have decided to make their home in Thanet. Russell believes strongly in providing his kitchen staff with the appropriate and thorough training in the kitchen to enable more junior staff to move to the next level in a structured way.
Russell comes to us with passion, drive and vision with a particular interest in fresh seafood.
A summary of the CDP offer:
A salary of £25k
Share of tips – up to £450 a month in the summer
The best hotel in Kent
Company-paid training for further qualifications
Flexible working patterns
Discounts on company's hotel stays and food
Structured and balanced working week
Be part of a business that puts its people first
Aspirations to achieve recognition in the form of awards, but mainly to cement our reputation as a very good restaurant sourcing its produce locally and using only fresh ingredients, preparing simple, recognisable, dishes.
As Chef de Partie you will play a pivotal role in the delivery of a high-end fresh food menu and will be given the best chance to train and develop your chef career.
Please register your interest and send your CV to: recruitment@albionhouseramsgate.co.uk
Requirements:
Min five years of experience
Ideally 2 years as a CDP – but not essential
Previous experience as a Commis
Good references will be sought